EfCCNa President Bronagh Blackwood won Belfast Ambassador's Award
October 15, 2016
President of EfCCNa, Bronagh Blackwood, has won a prestigious Belfast Ambassador's award for recognition of her work in bringing critical care nursing conferences to Belfast, Northern Ireland. In 2009 the BACCN International Conference was hosted in Belfast and in 2017 the EfCCNa Congress will come to Belfast.
EfCCNa endorse SIAARTI statement about the war in Syria
October 10, 2016
The European federation of Critical Care Nurses association (EfCCNa) fully endorses the SIAARTI's statement about the war in Syria [http://www.siaarti.it/SiteAssets/News/statement-siaarti-guerrain-siria/SIAARTI%20-%20Statement%20Syria%20-%20en.pdf]. The federation, representing 28 national associations of critical care, emergency and anaesthesiology nurses is acutely aware of the horror of the civilian tragedy generated by the war. It is deeply saddened by the fatalities from ongoing bombing of civilian buildings including hospitals in Syria as well as the many deaths of civilians attempting to cross the Mediterranean to reach safety.
We firmly share the concerns and the opinion of SIAARTI that this is morally unacceptable. The EfCCNa also joins the united call to all Governments to make strenuous efforts to uphold the principles of the Convention of Geneva that civilians should never be considered as military targets.
Bronagh Blackwood
EfCCNa President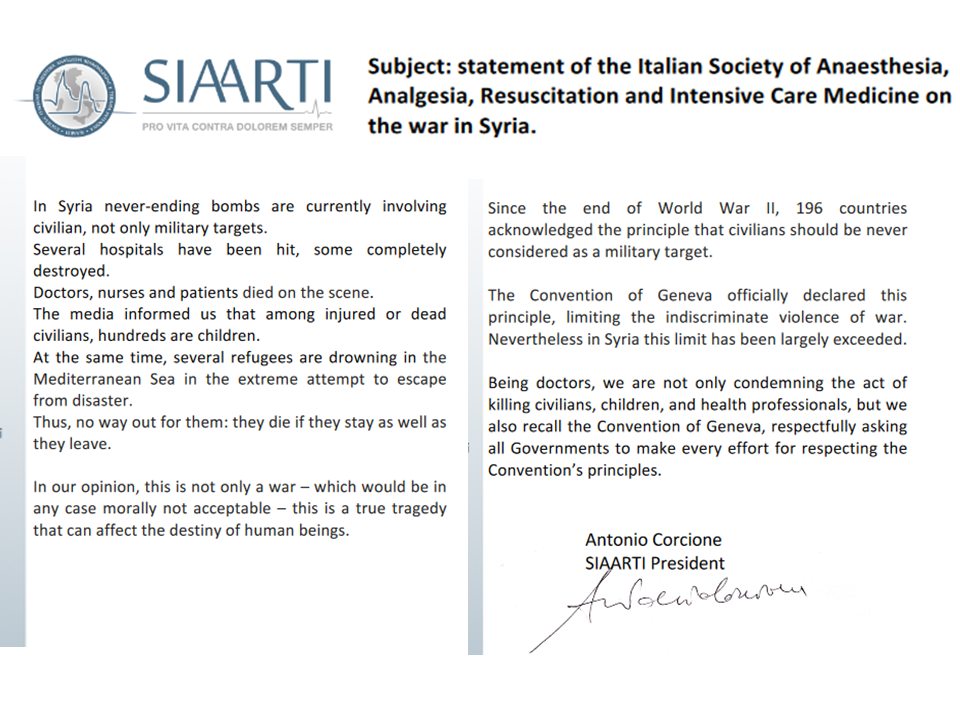 Critical Care Doctoral European Nurses
October 5th, 2016
Extended Deadline for Abstract Submission
October 4, 2016
New partner for Exchange Programme
September 20, 2016
EfCCNa is happy to announce a new opportunity for colleagues interested in the Exchange Programme:
University Hospital Perugia, Italy
Perugia University Hospital consists of 700 beds. All major specialities are represented. In the Hospital there are 5 different ICUs: 13 beds of general ICU, 7 beds of heart and thoracal ICU, 10 beds of CICU 4 beds of RICU, 7 beds of NICU. There are about 40000/year access at the Accident & Emergency Department.
There is a Centre of Emergency Medical Services of Umbria (the emergency telephone number118/112), with 7 nurse workstation. There is school for nursing, medical and health professions students. We have various trainer in our team for BLS-D and PBLS-D There is a Skills Lab (www.csma.unipg.it), where the most common medical and nursing interventations can be practiced.