20 Years of EfCCNa Jubilee
January 21, 2019
Early Bird registration deadline 8th EfCCNa Congress prolonged
November 30, 2018
Good news for all late comers: the early bird registration deadline is prolonged to December31, 2018.
8th EfCCNa Congress - Call for Registration
October 19, 2018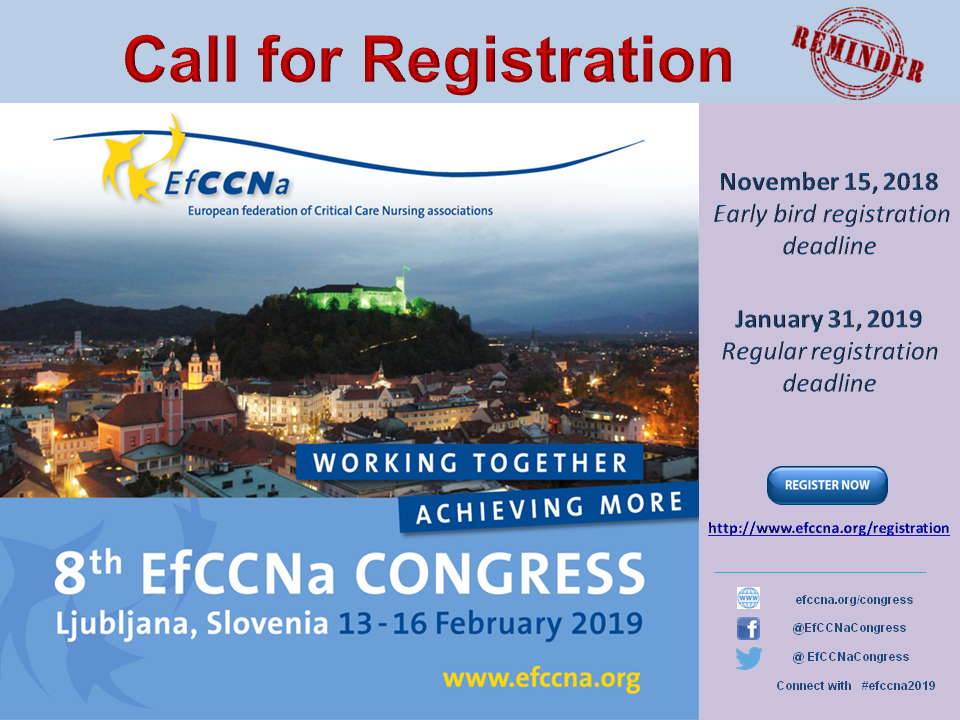 EfCCNa recommends E-learning Course on Multiculutral Care
October 19, 2018
The Erasmus+ project 'Multicultural Care in European Intensive Care Units' - MICE-ICU (2016 – 2018) was initiated with the aim to develop a specialist multicultural course for ICU Nurses.
The project involved more than 500 nursing colleagues who analysed the intercultural training needs and competencies of European ICU nurses. On this basis they developed an e-learning course on multicultural care dedicated to nurses working in intensive care environments.
The European federation of Critical Care Nurses associations (EfCCNa), one of the strategic partners in this project, strongly recommends the syllabus and the course to all critical care colleagues in Europe as a great opportunity for real interactive e-learning.
The three course modules offer sound information about cultural awareness and sensitivity, culturally diverse patients in health care environments and deals with specifics when caring for culturally diverse patients on ICU.
One will learn about the philosophical, ethical, legal and professional basis justifying non-discrimination principle regarding culturally diverse Patients, the concepts of culture and ethnic minority, the different approaches to health and sickness by cultures, patterns of interpersonal communication, spiritual and religious expectations/practices intercultural care in boundary situations in ICU.
From October 2018 the course is available on the MICE-ICU website http://lms.mice-icu.eu