Critical care nursing in Europe varies from one country to another
. The EfCCNa Exchange Programme enables critical care nurses to spend some time on a ICU in another European country.
Aims and Objectives of the programme
to widen the professional horizon of critical care nurses in Europe
to promote international collaboration and to share expertise
to stimulate the personal professional development of critical care nurses in Europe
Who can participate?
All critical care nurses or nurses working in intensive care who's national professional organisation is member of EfCCNa.
For more information on the programme see links below
Reports on the exchange programme
Since its implementation more than 40 European nurses have participated in the programme so far.
Here are quotes from our last delegates.

To sum up, this was a really enriching experience, and that's why I encourage other colleagues to join the programme. It is the way to experience first hand that nursing care is not the only thing that makes a difference; it is also factors such as the organizational structure and inter-professional communication. Each team, in their context, has their strengths, threats, opportunities and weaknesses.
Nowadays, in Spain, we are in a context of economic difficulties that undoubtedly would influence health outcomes, but we have a great innovation, creative potential and motivation to improve the processes of care to our patients. The EfCCNa exchange programme is another opportunity to expand horizons.

Gemma Via from Spain

---

The Exchange program was for us a great opportunity to show how there is one of the best
intensive care in Europe.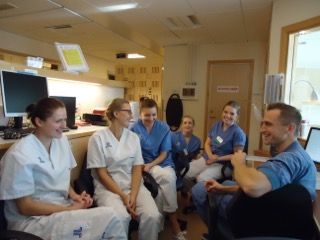 We had the opportunity to gain new experience and comparison of our knowledge and skills to the knowledge and skills of our Swedish colleagues.
The level of nursing care in Sweden is high - Swedish nurses have the capacity and conditions to ensure that the patient be able to comprehensively cultivate.
In intensive care it is very important to realize how important the interdisciplinary approach
to the patient with the appropriate amount of staff among others in the prevention of infections, for the safety of patients and their welfare and safety of personnel.
In Sweden, this consciousness exists. In addition, we had the opportunity to meet many wonderful people who served us help and tried to do everything that we benefited as much as possible during our stay in Karolinska Hospital and Danderyd Hospital.
Aurelia Sega, Ilona Nowak, Aleksandra Władymiruk from Poland