Research Grants
These grants are aimed primarily at encouraging European research that focuses on critically ill patients, their relatives, or the staff and services that provide for them.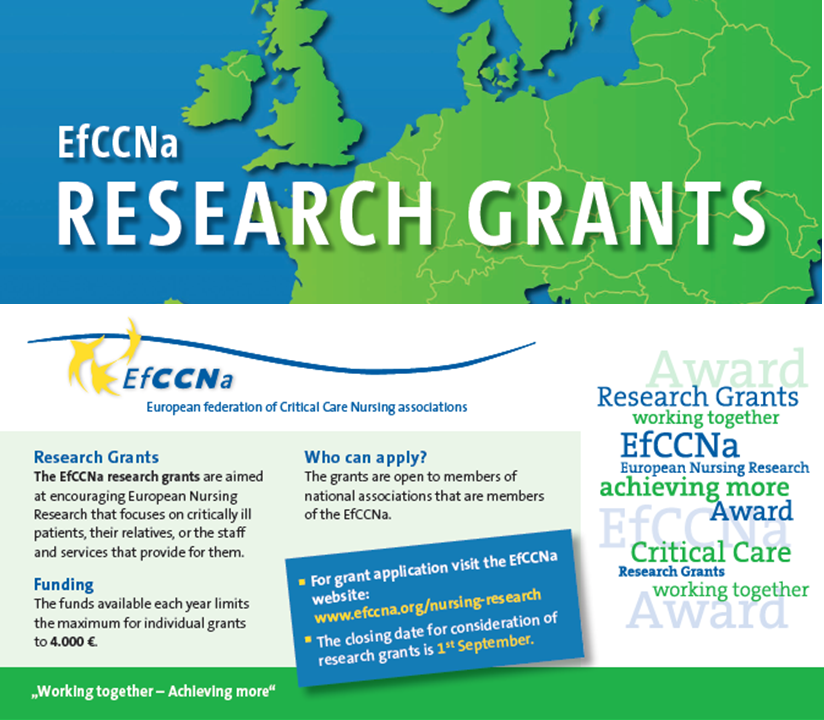 The grants are open to members of National Associations that are members of the EfCCNa.
For more information about the grants please have a look at the EfCCNa Research Grant Information.
For grant application please use the EfCCNa Research Grant application form (see instruction how to fill in an online pdf)
The closing date for consideration of research grants for 2023 is 1st September 2022.
Successful grant holders will be informed mid-January of the following year.
Research Grant Holder 2022
Burnout syndrome in Critical Care Nurses working in COVID-19 settings in Croatia and Poland
PI: Andriano Friganovic
Research Grant Holder 2020/21
no applications
Research Grant Holder 2019
Family Engagement in Intensive Care Environments (FENICE)
PI: Matteo Danielis
Research Grant Holder 2018
Early Mobilisation in the ICU: The MOVIPRE Project
PI: Marta Raurell Torredà
Research Grant Holder 2017
Weaning from mechanical ventilation from a patient's, next-of-kin and health care professionals perspective
PI: Catharina Tingsvik
Research Grant Holder 2016
Nursing workload on ICU: development and application of a model for the prediction of workload and nursing staff
PI: Marga Hoogendoorn
Research Grant Holder 2015

What are the needs of families of patients with a chronic illness whilst in critical care and what resources might help?
PI: Geraldine O'Gara
Research Grant Holder 2014
Dandelion: Danish Delirium Study on Neurointensive Care Patients
PI: Lorna Krone
Research Grant Holders 2013
Study of Variability of Care Provided during non-invasiveVentilation
PI: Marta Raurell
Sleep Distubances and Searion Practice in the Intensive Care Unit: an International Survey
PI: José Hofhuis, Peter Spronk